Cotton vs. flame retardant wool
The North Carolina State University, an independent laboratory, which is testing the degree of burn injury by a flashover, executes this test. The result of this test is indicating the total damage on the body, specified by 2nd and 3rd degree burn injury. We have done The PyroMan test with flame retardant underwear and ordinary cotton underwear under a flame retardant cover all.
In addition to the burn injuries shown in the illustration, scalding injuries may occur caused by moisture. Your body's own perspiration often causes burn injuries. If the perspiration remains on your skin, it may overheat and start boiling. Because of this, it is very important to use underwear with good moisture transporting properties, such as wool. Garments containing synthetic fibres will melt and cause severe skin injuries.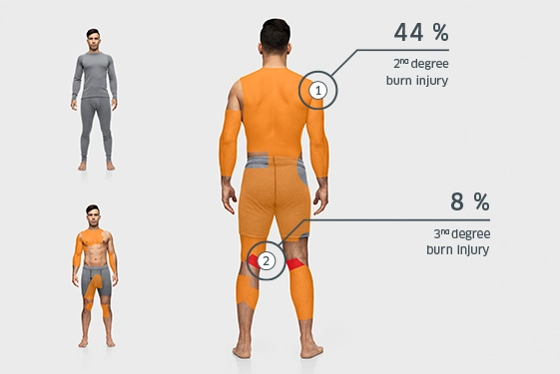 with ordinary cotton underwear
52% TOTAL BURN INJURY
| | |
| --- | --- |
| MEASURE | RESULT |
| 1 2nd degree burn injury | 44% |
| 2 3rd degree burn injury | 8% |
| 3 Total burn injury | 52% |
THE TEST IS DONE WITH THE SAME OUTERWEAR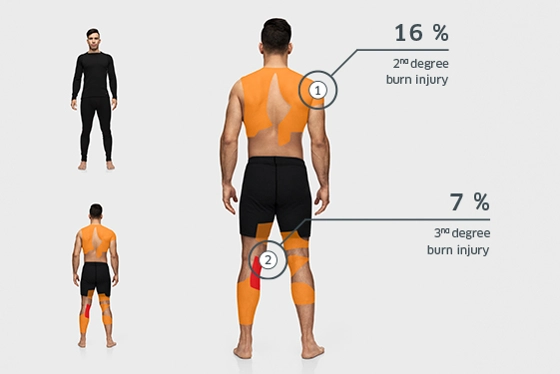 with Devold flame retardant wool underwear
23% TOTAL BURN INJURY
| | |
| --- | --- |
| MEASURE | RESULT |
| 1 2nd degree burn injury | 16% |
| 2 3rd degree burn injury | 7% |
| 3 Total burn injury | 23% |
THE TEST IS DONE WITH THE SAME OUTERWEAR