All Devold wool comes from the farmers who are farming sheep sustainably
All Devold wool comes from the farmers who are farming sheep sustainably
We guarantee wool free of mulesing.
Nature´s super fiber
Wool is nature's own little miracle. A material that we've worked with for more than 165 years. Today, we constantly come up with new innovations as we push the boundaries of how wool can be used. We continue to knit woollens safely and in a fashion that guarantees quality – the kind of woollens that have made polar expeditions possible and have kept the Norwegians warm for generations. Wool is what we believe in – a 100% natural material that is 100% biodegradable.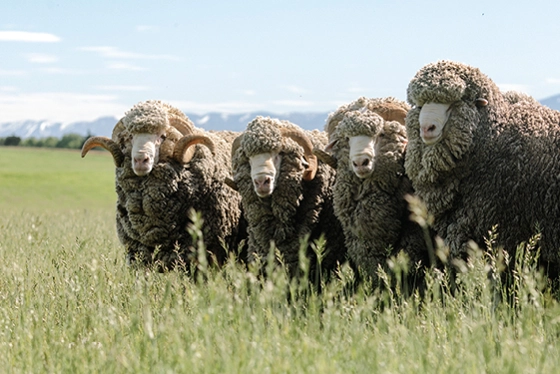 A good choice for the environment
Wool isn't just good for you, it's also a good choice for the environment. We work with carefully selected farmers who take good care of both the animals and the soil. Our clothes are designed in Norway and we own our factory. You can be sure that the working conditions in our factory are decent and that we use state-of-the-art equipment. Unlike any synthetic counterpart, your Devold woollen will be gentle on nature while you wear it and, because of wool's natural, self-cleaning properties, it'll make for much less laundry than other clothing.
Organic wool
Our quest for merino wool of the highest quality, which meets all our requirements for sustainable wool production, has brought us to Argentina. From the Patagonian pampas we source 100% organic merino wool from carefully selected farmers with healthy sheep who live freely on pastures where no pesticides or fertilisers have been used. All year round, they graze on endless plains, and are guarded only by a gaucho – an Argentinian cowboy.
The organic merino wool travels from Patagonia to our own factory in Europe, where it's processed in our own craftsmen's hands. Their uncompromising approach to work and the extreme focus on detail ensure that every Devold garment is of the highest quality.
The journey continues to our test lab in the Sunnmøre Alps, where our clothes are tested to withstand the harsh West Norwegian climate. But it all starts with our designers and product developers, who are constantly pushing the limits of how wool can be used. They create products that have been manufactured both to be at one with nature and to withstand its rough and tumble.